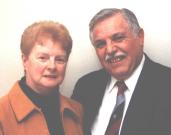 Teun & Tessa de Ruiter
Who are they...?
Dutch version of this introduction

Tessa comes from South Wales in Great Brittain, but she was born in Ibrox (Glasgow) in Scotland. Teun is Dutch and was born in Scheveningen near The Hague. Tessa grew up in the Welsh family that adopted her during the Second Worldwar. Tessa was the youngest child in a large family, but her mother died when Tessa was only two years old. When her father became redundant in Glasgow the family moved to London. A few years later after the family moved to London, the city became a German target and was regularly bombed. As so many children, Tessa was also taken to a guestfamily. This family began to love Tessa and decided to adopt her; that is why she grew up in Brynmawr in South Wales. The family went to the local Baptist church and when Tessa was a teenager she became active in churchwork.
Teun received a Dutch Reformed upbringing. During his military service with the Dutch Royal Airforce he received the Lord into his heart; he was at that time twenty years old. After a weekend with Sidney Wilson of 'Verdieping en Activering' he asked Christ to come into his life. That choice changed his life and ambitions completely. In 1960 he went to to Wales as he felt the call of God. He became a student at 'The Bible College of Wales.' During his studies he met Reinhard Bonnke, who shared one day his nightly dream, a divine vision, for ministry in Africa. During a stay in 1962 at the home of a baptist minister, Jim Webber, in Brynmawr he met Tessa. They fell in love with each other and married in Brynmawr in september of 1963, South Wales.
They had four children: Andrew (born in Wales), Elisabeth, Grace en Deborah, but Grace died at the age of six in 1978 as a result of complications of an illness. Presently, March 2005, they have six grandchildren: Stacy, Laura and Davey de Ruiter and Daniël, Suzanne and, born on 1 October 2004, Kiki Boon.
They had moved to Holland in 1967 and that year Teun became a teacher in Bible and Theology courses at the 'Centrale Pinkster Bijbelschool' in The Hague. In 1990 he was inducted as the minister of the Elim Pentecostal Church in Hilversum.
Tessa became active in 'Women's Aglow' and served many years as president of the local chapter in Barneveld and in Hilversum. She is a registered speaker in 'Women Aglow.' She received powerful 'inner healing' touches of the Spirit of God. Some of her testimonies you find on this site; please follow the link 'Testmony Time.'
The denominational ties are with the 'United Pentecostal and Evangelical Churches (Dutch VPE), formerly named the 'Brotherhood of Pentecostal Churches, which is affiliated with the Assemblies of God. Both Tessa and Teun have a ministerial license.
Our prayer is that everywhere on this globe people will find salvation and peace by faith in Jesus Christ. Our prayer and desire is that Christians will stand firm on the Word of God en be channels of blessing through the power of the Holy Spirit. We look forward to the return of Jesus Christ, because we know from Scripture that His coming is the eternal union of all believers with Him and for the world the coming of the Great Kingdom of peace.
Site 'Inspiration & Insight' (Inspiratie & Inzicht' , since 1997 / page update 25 April 2010 / T. J. de Ruiter / The Netherlands