Tessa de Ruiter † <![if !vml]>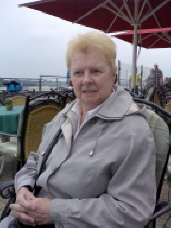 <![endif]>
My personal introduction.....

All glory and thanks to Jesus, my Saviour and Lord!
This photo was taken in 2008 in Emmerich, Germany, on her 70th birthday

Thank you for logging in on this personal page on our site
The Dutch version of this testimony is lower on this page / De Nederlandse versie van dit getuigenis staat lager op deze pagina
I was born in Scotland, but when I was still very young my mother died and my father moved with his children to London. When London was bombed by the Germans I was, as many young children evacuated and received in a Welsh family, who after some years adopted me legally. That's why I grew up in Brynmawr, South Wales. I accepted the Lord when I was a teenager and was baptized in Baptist Church, Tabor Chapel in Brynmawr. Some years before my twentieth birthday I began to love and serve the Lord and began to preach in my own Church and also in other churches in the area. Since my marriage with Teun de Ruiter in 1963 we are serving the Lord together. We received four children of which one, Grace, is with the Lord . For many years I served the Lord as a preacher and enjoyed especially speaking to women. I have seen the LORD heal many broken hearts of women, saving their souls and restoring them from ashes to real beauty. Since 1972, on the age of 72, I have retired and have received the status of minister emeritus in the VPE (Assemblies of God) in Holland.
To give you an impression of my experiences of and with the Lord, His love and power I invite you to read some of my testimonies. Just follow the links below on this internetpage.
Tesa passed away at 28 april 2021
Tessa de Ruiter-Thomas - Mc Laughlan
Nederlands (Dutch language)
Fijn dat je even tijd ervoor neemt om kennis met me te maken.
Ik ben in Schotland geboren. Maar toen ik nog heel jong was stierf mijn moeder en verhuisde mijn vader met zijn kinderen naar Londen. Toen Londen door de Duitsers werd gebombardeerd moest ik, zoals veel jonge kinderen, weg uit Londen. Ik kwam terecht bij een familie in Wales die mij na een aantal jaar adopteerde; dat is waarom ik in Wales opgroeide. Toen ik een tiener was heb ik de Heer als mijn Heiland aangenomen en werd gedoopt in de Baptistenkerk, Tabor Chapel, in Brynmawr, Zuid Wales. Ik kreeg de Heer lief en ging Hem dienen. Al in mijn jaren als tiener predikte ik in onze eigen kerk en ook in andere kerken in het gebied waar we woonden. Sinds mijn huwelijk met Teun in 1963 dienen wij de Heer tezamen. We kregen vier kinderen waarvan er ййn, Grace is gestoveren. Veel jaren diende ik de Heer als spreekster en sprak graag speciaal tot vrouwen. Ik heb gezien hoe de Heer het gebroken hart van veel vrouwen genas; haar herstelde van gebrokenheid naar ware schoonheid. Op de leeftijd van 72 jaar ben ik in 1972 bij de VPE aanvaard als predikant-emeritus.
Om je een indruk te geven van mijn ervaringen met de Heer, zijn liefde en kracht, nodig ik je uit enkele getuigenissen lezen. Volg een link lager op deze internet pagina
Tessa is overleden op 28 april 2021.
Tessa de Ruiter
Site 'Inspiratie & Inzicht' (Inspiration & Insight' ) since 1997 /page since 2008 / edited 4 juni 2023 / Tessa de Ruiter / The Netherlands